Rehabilitation
Our team of therapists has helped thousands of patients return to the activities they love by alleviating pain, improving function and enhancing their quality of life. Our priority is getting you back to your highest possible level of functionality—it's why we're so passionate about what we do!
We get you back to the activities you enjoy
Whether you are recovering from an injury or recent surgery or struggling with arthritis or poor balance, we can help. Our multi-disciplinary team of certified physical, occupational and speech therapists are highly skilled and have vast experience serving patients of all ages with a variety of needs.
We work collaboratively with you to develop a program tailored to your unique needs and desired goals.
Rehabilitation center amenities
Aquatic therapy center
Board-certified clinicians
Covered entrance
Indoor walking track
Pediatric sensory gym
Private treatment rooms
Therapeutic fitness center
Physical therapy services and specialties
We have a variety of specialty equipment, advanced technology and dedicated spaces so we can offer you the best rehabilitation possible. Some of our services are: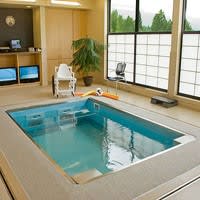 We use aquatic therapy when standard physical therapy may be too taxing for patients with reduced range-of-motion to help injured muscles regain strength and fluidity.
Our variable-depth heated pool has a moveable floor, underwater treadmill, resistance jet technology, and computer and camera system to satisfy the varied demands of traditional physical rehabilitation and athletes. The buoyancy and heat of the water offers therapeutic effects for progressing through weight-bearing exercises. Aquatic therapy can improve recovery rates for athletes and post-operative patients.
Aquatic therapy can be used to treat:
Arthroscopy.
Degenerative disc disease.
Balance disorders.
Joint replacement surgery recovery.
Muscle strains and sprains.
Rheumatoid arthritis.
Our cardiac rehabilitation program is medically supervised and designed to improve your cardiovascular health if you've experienced a heart attack, heart failure, angioplasty or heart surgery. Our cardiology team works with you, your surgeon or medical team to tailor a supervised program that meets your needs and physical goals, which may include:
Physical activity.
Educational information on healthy eating.
Medication.
Stress relief tools.
Our therapist are trained in dry needling, which is focused on using a strong stimulation on the muscles to get them to release with the goal of reducing pain, inactivating trigger points and restoring function. This procedure is typically combined with a broader physical therapy approach that incorporates other modalities into your treatment. We use dry needling to treat:
Back and neck pain.
Tennis elbow.
Headaches and migraines.
Joint problems.
Myofascial pain (connective tissue around muscle).
Pelvic pain.
Plantar fasciitis pain (tissue on the bottom of the foot).
Shin splints.
Our licensed certified hand therapists help the functional recovery of the shoulder, elbow, forearm, wrist and hand following injury, surgery or disease process.
Hand therapy may involve several treatment options, including:
Assistive technology.
Comprehensive evaluation.
Custom splint fabrication.
Ergonomic/work site assessment.
Functional retraining.
Musician's return to play program.
Physical/functional capacity evaluation.
Prevention programs.
Sports conditioning.
Symptom management.
Therapeutic exercises.
Hand therapy treats many conditions, including:
Arthritis.
Amputation/replantation.
Carpal tunnel syndrome.
DeQuervain's disease.
Dupuytren's disease.
Fractures and dislocations.
Joint replacement for arthritis.
Ligament tears/instability.
Shoulder conditions/rotator cuff injuries.
Sports injuries (like tennis elbow).
Tendon injuries.
Repetitive strain conditions in adults, teens and children.
Worker's compensation injuries.
Our neurological rehabilitation is highly individualized treatment that addresses a patient's specific needs. We work one-on-one to offer full attention and provide physical, occupational and/or speech therapy, which may include:
Movement retraining and/or balance, gait and functional training.
Manual therapy.
Vestibular/dizziness rehabilitation programs.
Speech therapy to help with speaking, reading, writing or swallowing.
Concussion management.
Activities to improve cognitive impairments, such as problems with concentration, attention, memory and judgment.
Some neurological conditions we treat include:
Stroke.
Multiple sclerosis.
Peripheral neuropathy.
Spinal cord injury.
Traumatic brain injury.
Vestibular dysfunction.
Movement disorders (Parkinson's disease, dystonia, ataxia, AL.
Dizziness.
We are certified through Work Well Corporation to provide a variety of occupational health services to meet your workplace needs and maximize productivity. Services include:
Functional capacity evaluations.
Job site analysis.
Functional job descriptions.
Body mechanics training.
Post-offer and return-to-work screens.
Ergonomic evaluations and training.
Pre-employment screening.
Lift testing.
Mobile worksite testing.
Our rehabilitation team works with you on general orthopedic and sports-related injuries, helping to identify physical goals and develop a plan to help you reach them. Conditions and injuries we help with include:
Back and neck pain.
Bursitis.
Carpal tunnel.
Fractures, sprains and strains.
Orthopedic surgery.
Osteoporosis.
Repetitive-use injuries.
Sprains or strains.
Sports injuries.
Tendonitis.
Torn cartilage, ligaments and tendons.
Total joint replacement.
Arthritis-including osteoarthritis and rheumatoid arthritis.
A typical rehabilitation program involves training that helps strengthen muscles, stimulate faster recovery and prevent future injuries. We know you want to get back to your normal as soon as possible. Our treatments may include:
Selective functional movement assessment.
Dynamic exercise.
Biomechanical evaluation.
Body mechanics education.
Functional and core training.
Manual therapy.
Soft tissue mobilization.
We are the only pediatric rehabilitation team in Western Montana, and we are deeply committed to providing the highest quality care to children and their families.
Our team includes occupational, physical and speech therapists who specialize in the rehabilitation care for infants, children and adolescents (up to age 21) to help manage and get past impairments that can affect their growth and development.
We treat a wide range of neurodevelopmental and orthopedic needs, including:
ADD / ADHD.
Apraxia.
Autism spectrum disorders.
Cerebral palsy.
Developmental delay.
Down syndrome.
Feeding and swallowing disorders.
Fine and gross motor coordination disorders.
Gait disturbance.
Language learning disability.
Oral motor dysfunction.
Receptive-expressive language disorder.
Sensory processing disorder.
Sprains/strains/fractures.
Stuttering disorders.
Torticollis.
Voice disorders.
We provide a comprehensive plan if you require rehabilitation after surgery. Depending on the surgery type and what muscles, joints or bones were affected, we work with you on initial immobilization, designing your plan involving progressive exercises to restore strength and mobility, and finally working to return to your "normal" pre-surgery level of physical activity.
Benefits of post-surgery rehabilitation include:
Improved circulation after surgery, preventing blood clots.
Better posture, balance and coordination.
Gait analysis and training.
Self-care training.
Manual therapy techniques.
Home exercise instruction.
Pain control and management.
Improved flexibility.
Reduced risk for postoperative pulmonary complications.
Our speech therapy team provides diagnostic and treatment services for adults and children dealing with a variety of impairments involving speech, language, swallowing and cognition.
We have experience treating a range of conditions, whether they result from illness, injury or developmental issues, including:
Aphasia (loss of ability to understand or express speech).
Dysarthria (speech disorders).
Dysphagia (swallowing disorders).
Memory deficits.
Post-laryngectomy swallowing difficulties.
Traumatic brain injury.
Voice disorders.
The focus of an individualized stroke rehabilitation program is to help relearn skills you may have lost, regain independence, and maximize your quality of life.
The severity of stroke complications varies widely from person to person, but research has found that people who participate in a focused stroke rehabilitation program perform better than those who don't.
Who helps with your stroke care?
Our team will work with you to develop a rehabilitation program that focuses on helping you regain your independence and reach your goals.
Physical Therapists: These professionals focus on improving your mobility whether that is getting in and out of bed more efficiently, walking without an assistive device, or retraining your body to be able to cast a line or pull a bow.

Occupational Therapists: These professionals focus on helping you increase independence with completing skills such as bathing, dressing, or any other activity you complete throughout your day. They can also address cognitive issues and safety within your home.

Speech-Language Pathologists: These professionals focus on improving your ability to communicate, assist with swallowing issues, and work with you to develop tools to address memory issues.
What's involved with stroke rehabilitation?
Stretching/Range of motion Exercises: Certain exercises and treatments can ease muscle tension (tone and spasticity) and allow you to move your limbs throughout a greater range of motion.
Motor-Control Exercises: These exercises help improve your coordination and muscle strength so that you can move your body in the most efficient way.
Mobility Training: Training will focus on getting you moving as independently and efficiently as possible. Whether the focus is on getting in and out of bed without help, getting around in a wheelchair, walking more efficiently with the use of an assistive device (cane, walker, or crutches), or rolling on the ground with the grandkids.
Constraint-Induced Therapy: An unaffected limb is restrained so that your brain must focus on moving the affected limb. This helps to improve its function.
Functional Electrical Stimulation: Light electrical current is applied to weakened muscles, causing them to contract. When combined with functional tasks, such as walking, muscular strengthening may occur. Once this happens the electrical stimulation is discontinued, and the body is more efficiently able to contract muscles and move.
Virtual reality: The use of video games and other computer technology to get body parts moving more efficiently.
Therapy for Communication Disorders: Speech-language pathologists will work to help you regain lost abilities in speaking, listening, writing, and comprehension.
Therapy for Swallowing Disorders: Speech-language pathologists will work to identify if the structures that assist with swallowing are impaired, and work to help you improve upon these impairments so that you can get back to eating the foods and consistencies that you like.
Therapy for Cognitive Disorders: Speech-language pathologists will work to improve impaired cognitive abilities. They can assist with memory, problem-solving, processing, social skills, judgment, and safety awareness.
We have a comprehensive balance and vestibular training program for those experiencing issues with their vestibular system, which can include: dizziness, vertigo, imbalance, gait instability, falls or fear of falling. Our balance treatments go beyond physical help and involve patient education and strategies to reach full potential. Common vestibular disorders we treat include:
Benign paroxysmal positional vertigo: sudden sensation of spinning or that the inside of your head is spinning.
Vestibular neuritis: inflammation of the vestibular nerve in the ear, causing vertigo and dizziness.
Meniere's disease: inner ear disease causing vertigo, spinning sensation, sometimes ringing in the ear, hearing loss or feeling of pressure in the ear.
Motion intolerance.
Peripheral vestibular dysfunction: loss of sensory information regarding head position and movement.
Women can have unique medical needs that often require specialized physical rehabilitation services. Our physical therapists provide a wide variety of treatments including pelvic floor strengthening, osteoporosis programs, manual therapy, body mechanics training and postural education, including:
Incontinence.
Musculoskeletal pain.
Obstetric and postpartum difficulties.
Osteoporosis.
Pelvic pain.
Sacroiliac joint dysfunction and lower back pain.
For more information or to schedule a free consultation with one of our board-certified clinicians and therapists, please contact us at 406.375.4570.