Mobi-C® cervical disc
Dr. Day was one of the first neurosurgeons in Montana to use the Mobi-C® artificial cervical disc replacement surgery to maintain neck motion. If you have a degenerative cervical disc, experience arm pain, or have neurologic symptoms such as weakness or numbness related to a cervical disc, we may be able to help you!
Adults aged 21 to 67 years.
Those experiencing arm pain or neurological symptoms such as weakness or numbness, with or without neck pain.
Those with a diagnosed damaged cervical disc, which might be causing loss of feeling and movement, pain, weakness, or tingling down the arm and possibly into the hands.
Those who've tried nonsurgical care options for a minimum of six weeks and pain continues to persist, affecting the quality of life.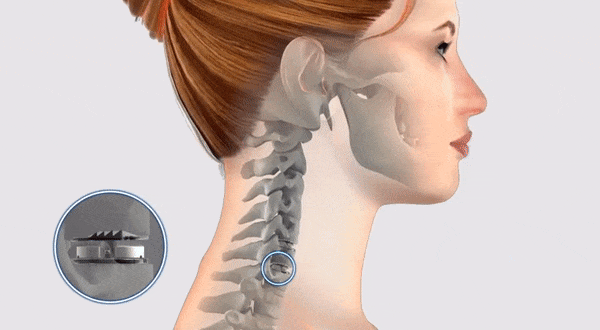 Alternative to a spine fusion. Less surgery time, reduced pain and quicker recovery time.
Suitable for use at one or two levels of the spine. A revolutionary development for patients who suffer from certain types of cervical or spinal issues or diseases.
Greater range of motion post-surgery. 96 percent of Mobi-C® artificial disc replacement patients demonstrated four total degrees of motion.
Lower risk of complications. Major complications are less than half the rate of traditional spinal fusion procedures.
Designed to replicate the natural motion of the cervical spine.
The mobile core slides and rotates inside the disc, self-adjusting to your cervical spine's movements, allowing the Mobi-C® to react to the natural motion of your cervical spine.
The mobile core is designed to allow for some movement, reducing the forces between the implant and vertebral bodies.
The Mobi-C® does not need invasive fixation features found in some cervical disc replacement devices.