Bitterroot Health Foundation
In the spirit of Margaret Daly's generosity in financing a hospital in her husband's name, Bitterroot Health Foundation was created in 1991 to help Bitterroot Health become a premier healthcare entity for the residents and guests of Ravalli County, Montana.
The Mission of the Foundation is to foster a culture of philanthropy and to engage the people of the Bitterroot Valley in building support for Bitterroot Health and its programs, while providing proper stewardship of assets entrusted to the Foundation.
We are better together
The Foundation has launched several campaigns in recent years to raise funds for very necessary state-of-the-art improvements at Bitterroot Health – Daly Hospital and its clinics. As a result of community and employee generosity, new equipment has been purchased and facilities have been constructed to provide compassionate and life-saving services to Ravalli County patients.
Your support is vital to our success in these life-saving endeavors. The Bitterroot Health Foundation thanks you for your memorial donations, monthly pledges, legacy gifts and bequests to support the area of greatest need at the hospital.
Contact us to learn about unique giving opportunities at 406.375.4674.
Bitterroot Health Foundation's Board of Directors & Staff
Collectively, board members have a broad range of skills and experience in order to meet the Foundation's fiduciary responsibilities. The Bitterroot Health Foundation has a full-time development director who reports to the board, as well as an outside accountant who maintains all financial records and auditing standards.
Tom Grymes is a mortician and co-owner of Daly-Leach Chapel & Crematory. He has a degree in Funeral Service Education from Mount Hood Community College. He's married to Carron Leach Grymes, and he's a father to two adult daughters.
"My goal is to be able to contribute to the betterment of Bitterroot Health - Daly Hospital and our community through fundraising efforts, which will lead to increased capabilities of our hospital."
Mary Woods has a BS in Mathematics from Utah State University and a JD from BYU. She's married to Timothy Woods, MD, an orthopedic surgeon at Bitterroot Health. She's a mother to five and grandmother to twelve.
"I practiced family law for five years, followed by a lifetime of providing free legal advice. Teaching is my joy, and I have volunteered throughout the years, serving on two other boards charged with protecting battered women and improving rural healthcare. My passion on this board is promoting the Colors of Cancer campaign by honoring and supporting the cancer warriors in our community."
Michele Adams has been the director of the Bitterroot Health Laboratory Department for over 40 years. She has a BS in Medical Technology from Weber State University, and she's married to Ed Adams. She's a proud mother, grandmother and adoptive mother.
"I am expanding outside my lab rat comfort zone to be part of a team of dedicated individuals who partner with our community and Bitterroot Health - Daly Hospital. My desire is to raise awareness and funds needed to continue to provide the highest quality healthcare our community deserves."
A Bitterroot native, Gina is the marketing director for Troy Collins Fine Art. She is also an active member and director for the Hamilton Players. She earned her BS in secondary education from the University of Montana Western and proceeded to manage Bitterroot Disposal for 15 years. Gina's passion for helping to provide accessible healthcare for cancer patients and survivors led her to chair the Ravalli County Relay for Life for 8 years and then to join the Bitterroot Health Foundation Board. She is married to Troy Collins and together they have seven children.
"After a personal journey with breast cancer, I knew how important accessible treatments were to Bitterroot Valley residents. I joined this amazing and dynamic board of people to assist in promoting our new Infusion Center and to help raise money to continue the tradition of award-winning healthcare in the Bitterroot Valley."
Owen Robbins is the president of First Interstate Bank in Hamilton. He has a BS degree from the University of Montana School of Business Management. He's been married to Jeanie McPherson Robbins for more than 25 years. They have three children—all born at Bitterroot Health - Daly Hospital.
"My goals for service on the board are all about giving back to a wonderful organization that has been a tremendous blessing in my life and that of my family."
Bill Bean is the CEO of Habitat of Humanity of Ravalli County. He and his wife Lucy moved to Hamilton in 1995 and had their own business for 18 years. He served three terms on the Bitterroot Health Hospital Board, is currently the president of the Sapphire Lutheran Home Board of Directors and actively involved in many other organizations, including the Chamber of Commerce and Trout Unlimited.
"Lucy and I love Hamilton, and this is home to us. We grew up in a small town, and Hamilton is very much like it. We feel that Bitterroot Health - Daly Hospital is the most important business in Ravalli County, and we support it 100%."
Darlene Corkrum is the former Chief Marketing Officer at Virginia Mason Medical Center in Seattle. She has an MPH in Public Health Administration from the University of Washington School of Public Health. She's been married to Lee Corkrum (attorney/retired) for 40 years. She has a son: Jason Corkrum – AEG Global Partnerships, Los Angeles based.
"We are new to this beautiful community, and it's an honor to be asked to support Bitterroot Health through this Board position at the Foundation."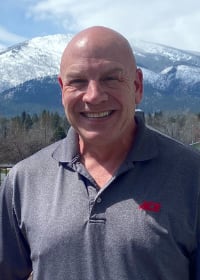 David has been partnering with Bitterroot Health since he returned to the valley in 2008. David has used his family business, Evans Ace, as a resource to raise awareness and funds for the hospital dating back to the MammoMan Days. In more recent years David has focused on Team White to End Lung Cancer. His Parents, Tom and Sandy Evans were both taken by the disease and it further committed him to increase participation in the Colors of Cancer campaign. David is also a board member of the Hamilton Players and an active member of the Hamilton Downtown Association. David is the proud Father of two, and thrives on helping the community that helped raise and shape them.
"My goal as a board member is to raise awareness of what an asset Bitterroot Health is to this community and how fortunate we are to have access to this level of care in our own backyard."
Michael Faulk is a business owner and founder of United States Services Group, an environmental and maritime-related company. He is an avid outdoorsman and philanthropist. He is a graduate of St. Bernard Parish Trade School, Marine Technology in Louisiana. He enjoys working to better our community and advancing our hospital to meet our county's growing needs. He's a father of three and a new grandfather to one.
"I have been in the Bitterroot Valley for well over a decade and have witnessed the wonderful advancements and improvements of our hospital. I'm excited to see what the future brings!"
Bobbi is the owner and managing broker at Pure West Christie's International Real Estate in Hamilton and all of the offices throughout the state of Montana. For over 30 years, she has assisted clients in the Bitterroot Valley with Montana homes and ranches as well as luxury homes and golf properties. Prior to that she enjoyed a 10-year career in event promotion and production. Her husband Larry, 2 children and grandchildren all reside close by-with four generations living in Hamilton.
"I joined the Foundation because I want to support our lovely Bitterroot Valley community, wonderful hospital, and medical services. We have the best folks in the world living and working here in the Valley. Our medical community works so hard to keep us as all safe and healthy."
John Bishop is the CEO of Bitterroot Health. He has a Master of Professional Accountancy from the Montana State University (Go Cats!). He's married to Halsey, and father to Brecken, Addison and Hudson. He is an avid outdoorsman who was raised in Montana and is proud to call the Bitterroot Valley home.
"Behind every great hospital is a great foundation. I'm passionate about providing our patients with an exceptional experience and foundations help make that possible."
Em Courchesne is a junior at Hamilton High School. She has been involved in many community service initiatives such as, Builder's Club, Key Club, HHS Soccer team, Ravalli County Fair, Emma's House, and the Colors of Cancer 5K. She plans to pursue a career in healthcare and hopes to dedicate as much of her time to others in need. Em is the daughter of Drs. John and Yvonne Courchesne.
"Fundraising for rural hospitals is critical and our community is greatly impacted by our initiatives. They allow individuals in the community to get involved and build a stronger sense of community. I'm so grateful to be a part of something that makes a difference in my community."
Sofia Lewanski is a junior at Hamilton High School. She aspires to be a veterinarian. Sofia is an active member of the student council and member of the Kiwanis Key Club. She also works part-time as a veterinary technician at St. Francis Veterinary Hospital.
"The immeasurable service Bitterroot Health Foundation provides to our to our community is one of the many reasons why I'm honored to be part of the Foundation Board."
Stacie Duce has a communications/public relations degree from Brigham Young University. She's married to Jay Duce and is the mother/adoptive mother to eight children, who have all enjoyed an idyllic childhood on the banks of Sleeping Child Creek.
"As a vested member of this close-knit community, I want nothing more than for my family and neighbors to live happy and healthy in this beautiful place. My work on many nonprofit boards and projects, and my time as a journalist and columnist for our local newspaper has established so many connections. I'm honored to serve in this capacity."