Who we are
Award-winning rural hospital and clinics
We are a rural area hospital with 14 associated medical centers and specialty care offerings. Since we opened our doors in 1931, our focus has always been to provide exceptional care to the people of the Bitterroot Valley. We are privileged that we've been able to care for the community we love (and live in!) for the past 90 years.
As our community has grown, so have we. Over the years we have continuously upgraded our facilities, added more care options and services, and brought more physicians and specialists onboard to meet the needs of our patients.
History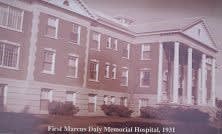 Margaret Daly built the hospital in memory of her late husband, copper king Marcus Daly, founding developer of the city of Hamilton, who passed in 1900. Margaret's vision was that a modern hospital in a good location, equipped with the latest equipment and methods of caring for patients, would be the biggest benefit to the Bitterroot Valley.
Margaret's visionary philanthropy has provided exceptional care to thousands of Ravalli County residents. Her only condition was that the hospital always be accessible to those of all races, nationalities and creeds, and that politics should never interfere with its purpose.
The hospital opened its doors on July 1, 1931, under the name Marcus Daly Memorial Hospital. Originally located on South Fourth Street, the three-story brick building is now listed on the National Register of Historic Places. When it opened, the hospital had seven physicians, 16 registered nurses and 12 nurses' aides. The first three babies born at the hospital were named in honor of Marcus and Margaret: Roy Marcus Daly Brady, James Daly Carver, and Margaret Daly Rouse.
The present hospital on Westwood Drive was built in 1975 and opened with 48 acute care beds and 14 physicians. Over the years, as services have been added and new locations for primary care were established in Darby, Victor, Corvallis and Stevensville. Because of this, the name changed to Bitterroot Health to reflect the broader scope of services and locations. The hospital retained the Daly name and became Bitterroot Health – Daly Hospital.
Today Bitterroot Health - Daly Hospital is a rural critical access hospital with 24 acute care beds and over 90 medical providers. Throughout the Bitterroot Valley, there are an array of outpatient medical services, surgical specialties, medical clinics, and primary wellness and preventative care available.
Over the past decade, significant additions and renovations have included a birthing center, rehabilitation center, ER, Hospice Services, intensive care unit, state-of-the art surgical center, and new locations that make up our extensive network of inpatient and outpatient services for Ravalli County residents and guests.
We're honored to have received a variety of awards over the years, and we continue to strive to provide award-worthy care. View our awards.
As a rural, nonprofit, community hospital, we are governed by our Board of Directors who works closely with hospital leadership.